This post was kindly sponsored by La Fille Colette. 
La Fille Colette makes one hell of a power dress.
It's one that says "I'll take the boardroom without the boredom. Yes, I'm confident, but that doesn't mean I have to dress like Claire Underwood." And it's a swift contrast to the minimalism dominating right now.
Don't get me wrong, there's a time and place for the minimal look. It's especially convenient if you've got more important decisions to make than quotidian dressing or if you're constantly traveling, but for someone with a trained fashion eye, the starkness sometimes feels underwhelming. If you're on Instagram, you know the phenomenon of the shapeless sac dress is a very real thing. To balance out minimal overload (hey, oxymoron), I've been craving softness, femininity, and pretty much every shade of pink in Pantone's arsenal.
That's why I'm so excited to introduce this brand – because it proves ethical fashion can have a distinct point of view. If you're into traditional feminine silhouettes, La Fille Colette will become your go to for the office or occasions.
The Cleo Dress in Pink/Orange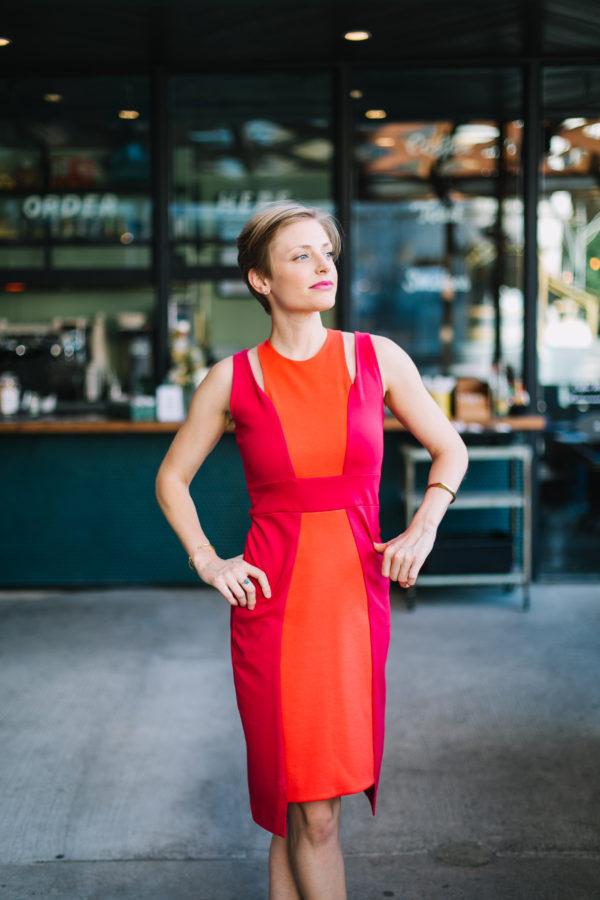 But it's not all pink
The line is actually quite diverse in shape, style, and print. Colette, the designer behind the line, cut her teeth in the art world, studying fine art in college in Boston and honing her eye for painterly styles when she lived in Paris and studied at the Sorbonne. While in France, she also spent a few weeks painting in the French Riviera on a grant. This influence shows up in her latest Spring/Summer collection that nods to French Impressionist paintings. If more ethereal, flowy styles are your thing, this is the collection you'll like most. I chose The Cleo from a past collection mainly because, pink. But also because, sexy. Whoa!
I showed it off at Irene's in Austin over one of the best lattes in town.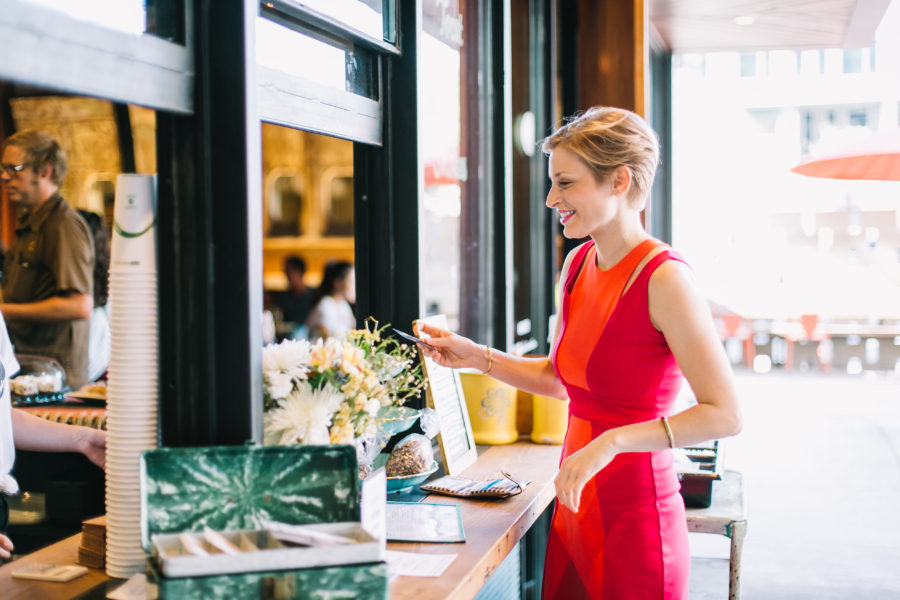 Le Fille Colette is old world classicism that comes from Bostonian heritage fused with the ease of French style. Minus the stuffiness.
What I Love Most
Fabric – It's a blend of Rayon (60%), Nylon (33%), and Lycra (7%), which could be upgraded to more eco-friendly options, but nevertheless it's a substantial weight and I can see it holding up for a long time. It's thick enough to hug the body and just stretchy enough to hold everything in. But don't worry, it doesn't border on body con style.
Color. The bold, monochromatic look turns heads.
Tiny Details. There is a pearl-closure at the neck of the back that only you may notice, but it's extra special. The cutouts at the shoulders and asymmetrical detail at the bottom balance out the feminine detail with an edge.
It can be hand washed at home.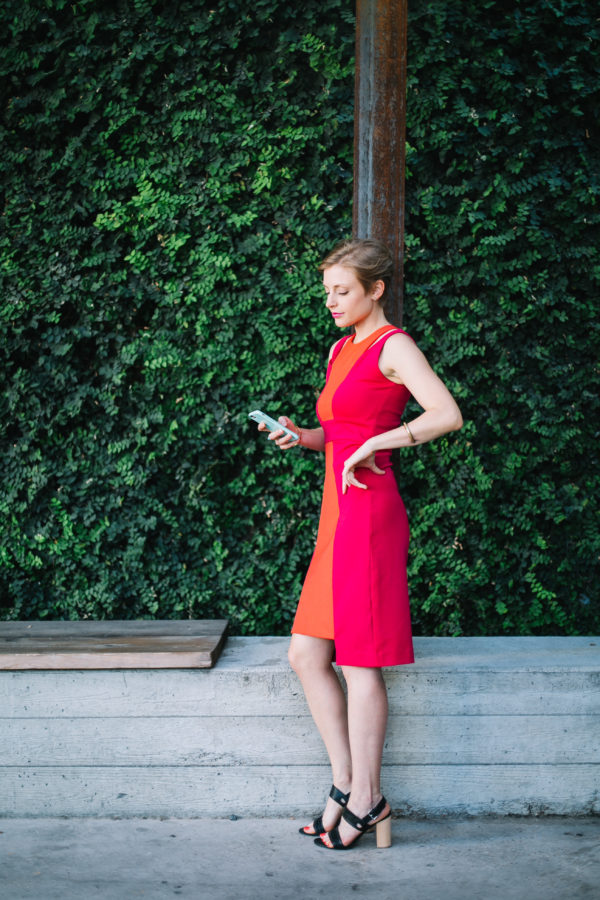 An Exemplar of Slow Fashion
La Fille Colette is slow and small, through-and-through. The dresses are made in limited runs to reduce waste and manufactured in Cape Cod, Massachusetts under Colette's close eye. On the brand's website, it specifies that all workers are paid a fair wage. So all that 'reshoring of American jobs' that Trump is promising, Colette was doing it first.  Furthermore, Colette is working to incorporate more sustainable practices into her design and has taken the first steps by sourcing 'Made in USA' fabrics and recycling all of her fabric scraps. She could go further in this commitment by gradually switching to eco textiles and adopting more zero waste practices. I'll be keeping tabs on her progress in this regard.
In my three years covering ethical fashion, I've been to loads of panels, read a ton, and interviewed folks who work deeply embedded in the industry. Without fail, the question "What's the one thing a consumer can do" always comes up. No matter what the respondents level of expertise, they always reply in one form or another with a simple platitude, "buy better quality things and make them last."
With La Fille Colette, you can heed their advice.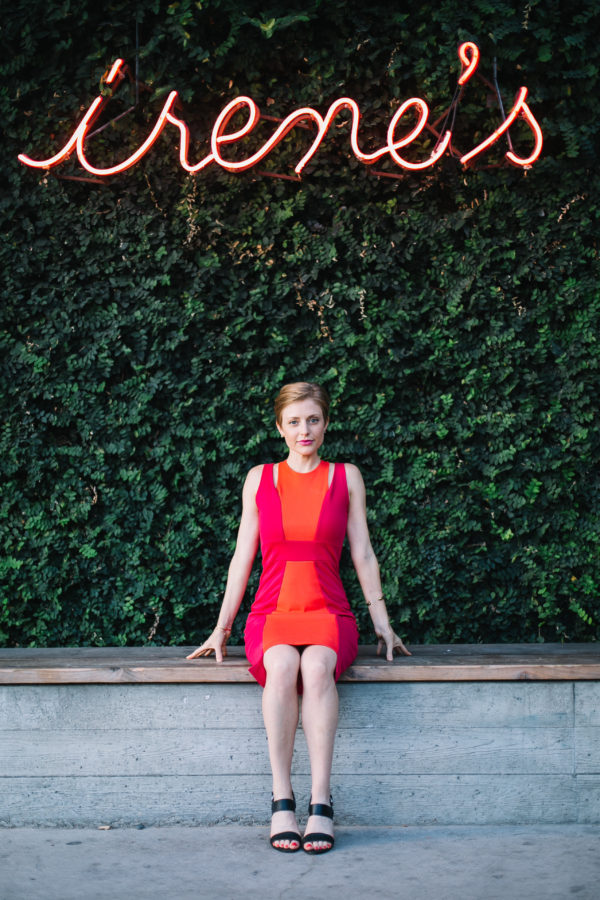 Last thing to love: Colette is also defying ageism in her designs by showing that women of all ages, shapes, and backgrounds can look good in the same style. It's a contrarian perspective that's both refreshing and necessary.
Photos: Brandon Hill
Bracelet: Soko
Shoes: Derek Lam 10 Crosby
The Cleo dress is currently only available in a size M.