I've been planning a trip to India with my two oldest friends all year and it's here! We arrive to celebrate Diwali, a Hindu festival of the lights, and then we are trekking all over the northern region and ending the trip at a three-day wedding. It feels surreal. And it also feels like a good time to share some insights with you about prepping and packing for the trip and what I'm shopping for during the trip.
I started prepping for India about a month back with a master packing list that my friend Alden of EcoCult shared from her trip to southeast Asia. I thought I could follow it to a T. But, I met some unanticipated shopping challenges.  I found it insanely hard to shop ethically for clothes to take to India for two reasons. First, all my shit could get ruined. Let's be real, I'm preparing for makeshift restrooms, hiking and heat-ridden rickshaw rides. I don't want my expensive clothes to cramp my adventure style. Second, I'm planning to leave a lot of my clothing in India as donations.
So, hate me a little, but I finally had to bite the bullet a buy most of my necessities at h&m to avoid overspending on need-it-now items. Sometimes converting to a full-blown ethical fashion wardrobe has to be a gradual process. It's an expensive goal.
The good news is I didn't buy much at h&m because I packed my suitcase with older items to wear and donate. Also, my goal while I'm there is to scour bazaars and shops for craft goods. There's no better place than India to get close to the manufacturing process and meet artisans face-to-face. That's where the dose of ethical fashion comes into my trip.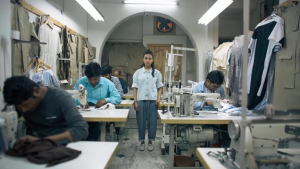 Here is what I'll be hunting for:
India Shopping List
1. Pashmina from Ladakh (I just read this WSJ article about craftsmen in the region sourcing wool in a way that honors ancient tradition)
2. People Tree (this flagship ethical fashion retailer was one of the first to the e-commerce marketplace and it's based in New Delhi. I'll be making a visit.)
3. Artisan necklaces, bangles, earrings galore!
India Ethical Shopping Rules
Know the artisan*
Learn the styles and materials

Inquire about the manufacturing and production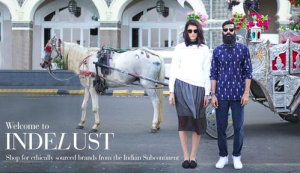 If India isn't in your plans anytime soon, checkout Indelust. It's one of the few online retailers infusing a contemporary aesthetic into traditional Indian craftsmanship.
That said, I'm going on a writing hiatus until December. I'll be indulging in lots of namaste and staying off social media for most of the trip.  Ever so often I'll be sharing my travels and, more importantly, my textile finds with you! Keep up with me on Instagram and Twitter at #ThePeahenInIndia.
References:
*Artisan handicraft is still the second largest source of employment in India with an estimated 200 million workers at the core of the handicraft industry (Crafts Council of India, 2011).
http://source.ethicalfashionforum.com/digital/a-taste-for-sustainable-fashion-in-indi